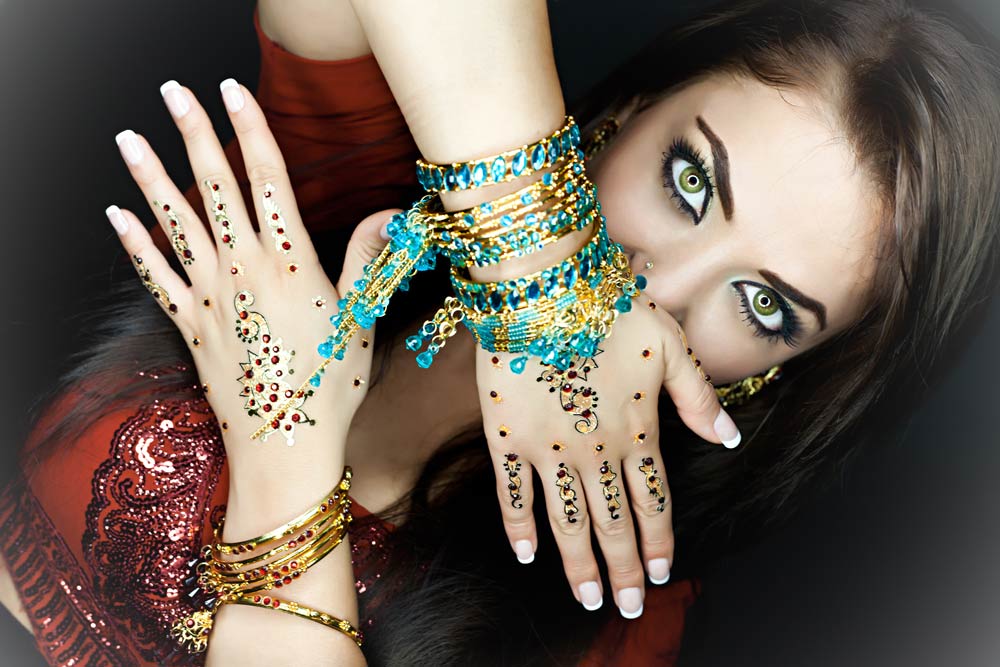 Belly dancing is more than just a form of dance—it's a form of expression, meant to give you control over your own style, routine and appearance. At Belly Dancing By Thia, we want to give you the complete belly dancing experience, from learning about this time-honored form of art through exceptional dance lessons in Salt Lake City, UT to sharing it with others who will appreciate its beauty. Take a look at all of the ways Belly Dancing By Thia can become a part of your life:
Dance lessons: Learning to belly dance involves more than just dressing up and moving your body and at Belly Dancing By Thia, we'll make sure that you get the right instruction in learning this timeless expression of dance. Our dance lessons in Salt Lake City are taught by award winning professionals and owner Thia is, herself, a winner of many belly dancing awards. We'll teach you how to get in touch with your body, instruct you on the proper ways to move and help you understand the history of this amazing art. Plus, we're also on hand to provide you with any and all costuming and dance wear needs: from dance clothes to accessories and more!
Zumba classes and lessons: Part of the beauty involved in belly dancing comes from a full body expression. In order to help you become acquainted with your body and get you energized and moving, Belly Dancing By Thia offers Zumba classes, in conjunction with our dance lessons in Salt Lake City, to help introduce you to the exhilarating experience of constant motion! Taught by Mecha, one of our certified Zumba and belly dance instructors, you'll have fun while you feel the burn in this nonstop, highly energetic program. No matter who you are, our Zumba classes are sure to motivate you and give you the feeling of a complete and total body workout.
BellyGrams, bachelorette parties and more: Want to share belly dancing with someone who you know will enjoy it? At Belly Dancing By Thia, we offer a number of ways to help you entertain: from surprise BellyGrams for any occasion, to entertainment at parties and other events. We're happy to take you and your guests on a magic carpet ride that's exotic, mesmerizing and enjoyable. Please, no bachelor parties.
Planning a bachelorette party? We can host it at the Belly Dancing By Thia Egyptian Dance Center. It is a beautifully decorated Egyptian theme room with plenty of room to have the perfect woman's night out! Each party can be custom-tailored to suit anyone's taste!
If you're looking to get involved in fun and invigorating dance lessons in Salt Lake City, South Salt Lake, Salt Lake County, or Millcreek, UT to help you learn more about this unique and exciting style of art, don't wait to contact Belly Dancing By Thia! Contact us at (385) 266-1843 to learn more about our classes, upcoming shows, our award-winning staff or to inquire about a BellyGram.
Whether it's your first time taking dance lessons or you're a veteran looking for ways to improve, Thia's award winning approach in technique, costuming, choreography, and performance will give you the tools to become a beautiful dancer! Her skill as a teacher/performer plus her talented and qualified staff can help you discover the "Goddess" within! Thia is a multi-award winner and has performed and taught workshops and seminars throughout the United States as well as in Germany, Greece, and Turkey. She has also studied in Egypt and openly shares her expertise and wisdom with all her students!
CALL FOR PRICES AND REGISTRATION NOW!
(385) 266-1843
Beginning Classes
Mon. 7-8 pm (Meada)
Thurs. 8-9 pm (Mecha)
Sat 10-11 am (Heidi)
Zumba Classes
Thursday 5-6 pm Teacher, Mecha
Children's & Teen Classes
Sat. 9:15-10 am (Nova) Kissa
Sat. 8:45-9:15 am (Tiny Tots) Kissa
Performing Classes
Mon. 8-9pm (Topaz) Meada
Tues. 7-8pm (Ultima) Thia
Tues. 8-9pm (Azalea) Meada
Wed. 6-7pm (Allure) Heidi
Thurs. 7-8pm (Wysteria) Meada